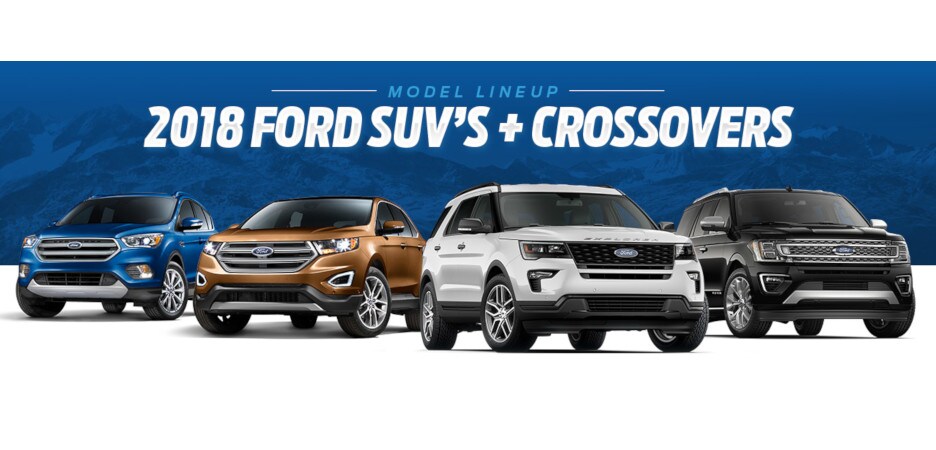 2018 Ford Crossover and SUV Lineup
The 

2018 

Ford crossover

 and SUV

 lineup features a model for nearly every occasion. Drivers searching for the perfect family vehicle will find their perfect match in a Ford vehicle. You can always visit Iron

 

Ford

 in Sparta

, IL

 to take a test drive!
The 
 is the most affordable crossover within the American automaker's lineup. Capable of seating five passengers, the Ford EcoSport features upscale styling and an athletic stance that makes it hard to miss out on the road. A roomy interior and available SYNC
 3 connectivity makes this model perfect for families of all ages
2018 Ford Escape

Drivers who require more space in their family crossover will find their solution in the 2018 Ford Escape. Featuring seating for five or up to 68 cu ft. of cargo space, the Ford Escape is perfect for family road trips and trips to the store. An available Intelligent 4WD system offers improved handling and traction on slippery roads.

2018 Ford Edge

Designed for drivers who want more athleticism in their family SUV, the 

 offers more interior space and a capable stance. This family SUV seats up to five adults comfortably. Available with a long list of active safety features, such as Adaptive Cruise Control, the Ford Edge is perfect for families.

2018 Ford Flex

The 2018 Ford Flex is a full-size SUV that's perfect for larger families. Capable of seating up to seven passengers, the Ford Flex provides plenty of interior space and all the technologies to go with it. Available SYNC® 3 connectivity and numerous active safety features make the Flex ideal for every occasion.

2018 Ford Explorer

Class meets capability in the Ford Explorer offers sophistication few competitors can match.

 SUV. An athletic stance and bold grille make this family model hard to miss. Seating for seven passengers and an impressive 365-horsepower V6 engine makes for a thrilling ride that the entire family can enjoy. Available from an affordable price, the 

2018 Ford Expedition

The Ford Expedition boasts best-in-class second-row and third-row legroom. Add in a best-in-class towing capacity of 9,300 lbs. and there's simply no competitor that can top the Expedition.

 is the largest SUV in the automaker's lineup. Featuring seating for up to eight passengers, the 

You can find all of these amazing utility vehicle models here at Iron Ford.